Sibella Court
is In Wild Air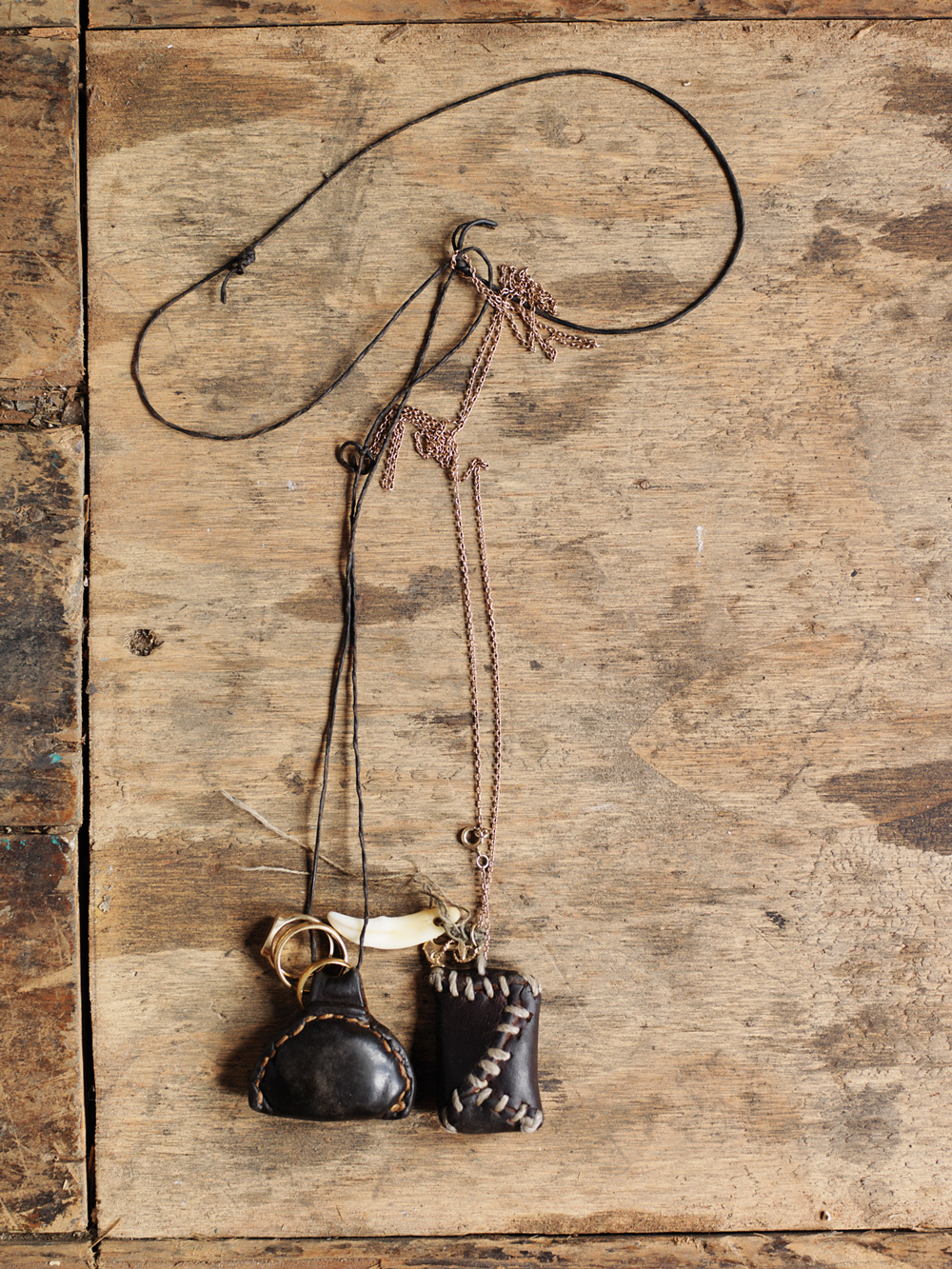 Culture
Amulets for protection
Amulet noun /ˈamjʊlɪt/ 1. an ornament or small piece of jewellery thought to give protection against evil, danger, or disease.
Most cultures incorporate a dose of superstition into their daily lives, including a need for protection against the ever-present evil eye. Across the ages, amulets and talismans have been imbued by their wearers with the power to protect and bring good fortune.
Ancient Egyptians were strong believers in the power of amulets
to benefit both the living and dead; a small carved deity to fulfil a wish, or an inscribed piece of jewellery to grant the mummy a safe journey to the afterlife. Amulets take many shapes and forms; amongst the
souq in Damascus
, one can find entanglements of sea creatures and parts of exotic animals: pelts of small cats, turtle shells, small crocs, sharks and puffer fish, starfish, stuffed birds, antlers and horns, crabs, porcupine quills, wolves teeth and other strung pods, bark and spices. For a while I flirted with antique Chinese children's clothes and although I did not pursue this collection, I love the idea that if you dressed a child up in clothes that looked and smelt of animals (such as ears on hats and tiger shoes with animal fur hidden within), the evil spirits would confuse it for an animal, and leave it to live a long, happy & prosperous life. As any good traveller knows, you need a little extra protection when embarking on a new adventure. I wear two amulets, both made from leather, with various items stitched inside them to keep me out of harm's way.
People
Mandy Aftel

As my fascination with fragrance increases I am booked in to attend
Mandy Aftel's perfume making workshop
in Berkeley, California in March. It's a small class of 8, hard to get into & can only be attended after completing a hefty workbook. Mandy specialises in all natural fragrance & you can buy her ready-made collection or visit
her recently opened museum
displaying her exquisite collection of pure and natural essences, culled from years of searching for the most beautiful varieties.
Places
Kew Gardens & Daleys Fruit World

In my next life (or sooner if possible) I want to be a Botanical Explorer in pursuit of the finest ingredients from faraway lands to plant my very own ingredient garden for perfume making. Somewhat like an
ethnobotanist
, taking my love of history & seafaring journeys to a whole new level, without the years at university. I will have bee hives to not only pollinate my garden & supply honey but to have on hand to harvest their wax for my hard perfumes & lip balms. The list will grow as the garden does as well as changing with the seasons; I will look for any plant, flower, or other material that I can extract from & I imagine my alchemy workshop to be covered in passionflower with
Daphne
by the door - the perfect shed hidden within the garden to house my secret recipes. I have the perfect spot for my garden that my generous in-laws are lovingly planting & tending at their Byron Bay farm. It lies in the hinterland looking back toward the ocean so I am close by to beach to harvest
ambergris
,
choya nakh
from seashells, salt and to collect seaweed to press as well. I look at
Kew Gardens
& Sir Joseph Banks for inspiration & buy my exotic trees & plants from
Daley's Fruit World
that get posted as they become available to the farm.
Things
The Society Inc Newspaper

I recently decided to produce my very own newspaper to share my thoughts & provide a glimpse behind-the-scenes at The Society inc.
Edition #2
is packed with a bevy of talented contributors as well as some of my favourite things along the lines of: Sir Joseph Banks & botanical exploring, stargazing, seafaring adventures, forgotten words. We have jammed it with handy hints to help you with inspired ideas to style & use The Society inc hardware at home or in any space. Some of our regular features include
The Stylist's Guide to the Globe
, this edition covers Miami to coincide with Art Basel & Byron Bay with the lead up to summertime. We have jammed it with Gift Guides full of products good for anytime of the year or for those handy stocking stuffers. Thanks to all of our talented contributors who produced outstanding work especially for our newspaper:
Jardine Hansen
,
Maya & Renata
,
Sarah Staunton
,
Adam Jones
, and
Beth-Emily
.
Thoughts
The World of Interiors
I have had a subscription to
this gorgeous magazine
dating back to the 90's. It has a been a constant in my life for go-to inspiration, amazing stories, heritage trades, quality products, colour hunting, collecting & collectors & history that is not dictated by trends or quick-fixes or furniture that ends up as land fill ( a few of my pet peeves). Back in the day,
Sue Skeen
&
Faye Toogood
produced the most incredible fabric & product pages and they remain a continual influence in my work as I watch their outstanding careers from afar.
Wildism
Santa Maria Novella Acqua di Rose

I first came across
Attar of Roses
when my mother gifted me a clear glass corked vial with an old tattered label. This had once belonged to my great-grandmother and smelt so beautifully of roses I don't believe it has aged a day! This intoxicating essential oil is distilled from fresh petals of
Rosa Damascena
. To freshen up every day, I use splashes of
Santa Maria Novella rose water
that is traditionally distilled by monks in Florence. The oldest still-operating pharmacy in Italy (
est.1221
), today it is housed in the original grand rooms of vaulted ceilings, ornate gilding, frescoes, walnut cabinetry, glass-stoppered decanters full of colourful potions, marble floors, glass-stained windows, bronze statues, and antique apothecary scales and mortars.