Pam Grossman
is In Wild Air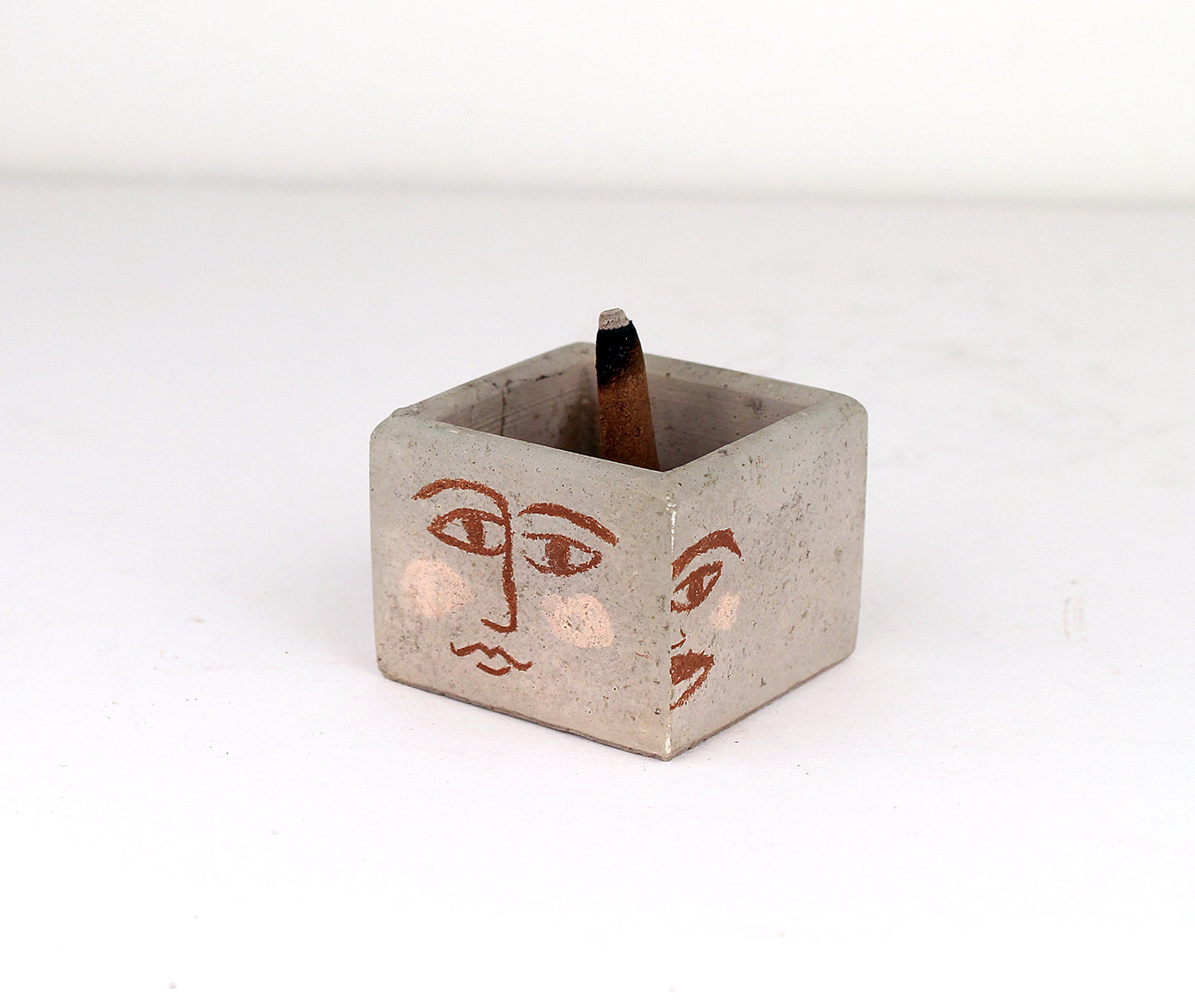 Pam Grossman is a writer, curator, and teacher of magical practice and history. She is the creator of
Phantasmaphile
, a blog that specializes in esoteric and fantastical art, which she has maintained since 2005. Pam is the author of the illuminated manifesto,
What Is A Witch
(Tin Can Forest Press 2016). Her writings about witches, occulture, and art have appeared in numerous mediums, including Sabat, Abraxas Journal, Sciences Occultes, Huffington Post, MSN, Film Comment, and Etsy. She is a frequent lecturer on the occult history of Modern art and the representation of witchcraft in visual culture.
Pam's group art shows and projects, including the critically-acclaimed exhibition
Language of the Birds: Occult and Art
, have been featured by such outlets as Artforum, The New York Times, The New Yorker, and Art in America. She is also Associate Editor of
Fulgur Esoterica
and the co-organizer of the
Occult Humanities Conference
at NYU. In April 2017, she launched
WitchEmoji
, a witch-themed sticker pack for iMessage that became the #1 seller in the App Store. A resident of Brooklyn, she lives with her playwright husband,
Matthew Freeman
, and their two cat familiars, Albee and Remedios "Remy" Varo.
Culture
In Praise of Shadows
A few years back, I had seen copies of Junichiro Tanizake's treatise on Japanese aesthetics,
In Praise of Shadows
,
at various bookshops around town in New York City where I live. It had a black and white cover, with a grid of white squares and some sort of character or emblem that reminded me of an electric fan. An admitted goth-adjacent Nipponophile, I was deeply attracted to the title and description, and so I would pick it up and rifle through it, only to place it back on its shelf each time. Something wasn't clicking, or it wasn't the right moment - who can say. I just wasn't hooked. Then in 2014, I was traveling in Scotland and stopped one day at an Edinburgh design shop. A gorgeous book displayed on the wall caught my eye. It was mostly black, with a striking painting of two white cranes and umber reeds emerging near the bottom of the cover. This dark jewel was the very same book, only this edition was published by
Vintage Classics
out of London. I bought it immediately. While perhaps we can't judge a book by its cover, you can certainly enhance its contents by adorning it with one that is worthy of its message.
I'm so pleased Vintage did just that, because
In Praise of Shadows
has since become one of my very favorite and most frequently recommended books. It is, in essence, an ode to darkness, and to the delight of looking at things that are partially concealed or which contrast richly against their shadowy surroundings. It touches upon everything from the pleasure of eating rice from a black lacquered bowl in a dimly lit room, to wooden toilet chambers, to candlelight, to Kabuki makeup, to ghosts. He writes,
"…[E]ven we as children would feel an inexpressible chill as we peered into the depths of an alcove to which the sunlight had never penetrated. Where lies the key to this mystery? Ultimately it is the magic of shadows. Were the shadows to be banished from its corners, the alcove would in that instant revert to mere void."
Whenever I read this book, I feel like I, too, have entered a nocturnal, tranquil space - as if I'm floating in a black pond lit from above by the faintest sliver of moon.
In Praise of Shadows
is a love letter to simple opulence, if such a thing can exist. It's a whispered aria to all things that sparkle in the dark.
People
Agnes Pelton

Much of my work explores the overlap between art and magic, and I'm doubly thrilled when I discover any undersung artist who feels a bit witchly in her own right.
The two I tend to speak about most often are Leonora Carrington and Remedios Varo, both fabulous, fabulist-Surrealist painters with whom I've been obsessed since I was a teenager. They became dear friends as ex-pats in Mexico City (born British and Spanish, respectively), influenced one another with their rituals, occult research, and esoteric experiments, and then incorporated these ingredients into their own imagery. Over the past few years, Carrington and Varo have been spotlit more frequently by art institutions and media alike, and this fills my heart with glee. I was tempted to write more about them here, but another name is scratching at my door, and I've learned it best take heed when such things occur.
Agnes Pelton
was a pioneer in the field of abstract art. As with many of the earliest abstract painters, she believed that non-objective forms were truest and most effective way that one could visually represent the spiritual experience. She developed her own symbolic language of shape and color which sought to transfer a sensation of transcendence to the viewer. Born in Germany, but raised in the US, she lived throughout the country, spending time in New Mexico and eventually ending up in California. She was a co-founding member of the Transcendental Painting Group (1938-1942), which included such luminaries as Emil Bisttram, Raymond Jonson, Lawren Harris, and Florence Miller Pierce. As with Pelton's, these names are far less familiar than Kandinsky, Mondrian, Rothko, and the rest, but they were essentially after a similar goal, and often with far more breathtaking results.
Pelton's work is astounding. Reminiscent of Theosophical thought-forms, her canvases are filled with softly glowing shapes that are ovoid and undulating. Occasionally there is a recognizable element: a flower, a fountain, a flame, a wing. But inevitably this will be positioned against a vivid pastel color field, seeming more like a marker on a map of the unconscious than the actual thing itself. Her paintings look like stills from Disney's
Fantasia
, or perhaps the dreams of a jellyfish who is high on too much candy and swirling gently in her sleep. When I gaze at these images, I feel centered and spellbound.
Places
Sintra

It's a funny thing how when one goes on an adventure, it's often the side trips that end up being the most memorable. Earlier this year we went to Lisbon with some friends, and it was quite the lovely city. Old and quiet and covered with tiles in every color of the rainbow. I loved sipping tart cherry Ginja liquor on the street and wandering through crumbling churches and eating far too many oily sardines right out of the can. As one does. But it was our day trip to
Sintra
that burns brightest in my mind. It's a short and easy train ride from the city – less than an hour, as I recall. And it is filled to the brim with ridiculous, hilarious beauty.
Sintra is what happens when people have giant imaginations and far too much money to spend at whim. They'll create things like Pena Palace out of former monastery ruins, the way that King Ferdinand did in the mid 19th century when he fashioned his family's summer getaway. This place is bananas. Circus yellow, a mishmash of every conceivable architectural period imaginable, and stuffed with fussy trompe-l'oeil and weird old mirrors and stags heads and I can't even explain it. Just go. His Castle of the Moors nearby is also worth a visit, and you can clamber along its very tall wall and even get a view of the house that was used in the highly underrated diabolic antiquarian film,
The Ninth Gate.
Your pictures of it will be grainy, but oh how you will cherish them.
But the greatest, most unmissable spot in Sintra is undoubtedly
Quinta da Regaleira
. When wealthy entomologist(!) António Augusto Carvalho Monteiro purchased the estate in 1892, he decided to use it as a space to celebrate his fascination with secret societies, mythology, and occult imagery. The grounds are filled with grottoes, hidden pools, strange sculptures of Greek deities, and Masonic "initiation wells" which consist of spiral staircases that you can climb down deep into the earth. The whole site skates the line between sincerity and kitsch, and feels like a playground for romantic weirdos. I would love to go back as we barely scratched the surface of this very pretty, very peculiar place.
Things
Radiant Objects

Here are a few items I have been addicted to lately, each illuminating in their own way:
Book Darts
– I am an avid note taker when I read, but sometimes I don't have the ability or inclination to have a whole separate notebook and pen setup going, and writing in directly in books themselves makes me a bit anxious. I do it on occasion, mind you, underlining passages I like with pencil, or scribbling lightly in the margins. But I've found a far more civilized way of marking bits I'd like to revisit: book darts. I like the bronze ones that come in a round tin. They are efficient and elegant and easy to use, and they make your book look as if it is wearing jewelry.
Mithras Candles
– When I'm doing any sort of ritual work, I prefer to use beeswax candles. Mithras Candles are my very favorite. They're dipped in a gorgeous Byzantine-looking drip fashion, and they smell like apian paradise. They come in various sizes, and they are deeply potent. My pals in Philadelphia make them with such care and craft, and their approach is scientific and mythological at once.
Zouz Incense
– I spend as much time as I can at the Octagon House, a home in upstate New York that belongs to my dear friend and frequent collaborator,
Jesse Bransford
. Jesse is an incredible esoteric artist and magic practitioner, and his artwork consists of exquisitely drawn spells on paper or else painted for a fleeting few weeks on the floor. As you might imagine of such an enchanting man, his house always smells incredible. Lately he's been burning Zouz Incense, which are hand-rolled cones with all natural ingredients. Each scent comes in a different patterned box that looks like a gift itself. I'm partial to the Moon Mix and the Apsara Blend these days. They make me feel like I'm living in a temple, or a forest, or a desert sky.
Thoughts
Pomegranates, Pumpkins
Every year around this time, people get pumpkin fever. Some are giddy to go pick them from patches. Some are infuriated by the proliferation of pumpkin spice flavored everything. Someone inevitably posts the
McSweeney's
"It's Decorative Gourd Season, Motherfuckers"
article on Facebook. It's a comfort.
Me, I get far more excited about pomegranates. They are more lush, more mystical, more delicious than pumpkins could ever hope to be. Though you can buy its arils prepackaged in many stores these days, I much prefer to wait until the fruit is in season and they start appearing suddenly in the produce section, a pile of majestic crimson planets. Pomegranates take work. They are tricky to cut, and plucking out the tasty parts is slow and messy business. But the reward is great. I love nothing more than to have a big bowl of edible gems greet me at the end. I eat them heartily with a spoon. Persephone gone wild.
Wildism
The Witch Ones

The majority of my work these days revolves around witches: what they are, why they matter, why they are rising in popularity. They speak so much to our relationship with female power. We adore witches, we fear witches. We want to become the witch, even as we're scared of being burned by our neighbors for revealing our true gifts or for using our strongest voices. Witches are subversive and singular and complex and change-making, and they answer to no one but themselves. Witches are the future.
I'm often asked for book recommendations about witches, and my favorites are all fiction.
Lolly Willowes
by Sylvia Townsend Warner. The
Wise Child
trilogy by Monica Furlong.
The Hearing Trumpet
by the above-mentioned Leonora Carrington. Novels which celebrate the witch as a creative female force who learns to live by her own rules. Books where the witch is heroic and perhaps even victorious. Stories that blaze a trail for us to follow through the treacherous wood, so that we, too, might eventually take flight.